Kowa American Corporation Introduces New Mobile Solutions Products in Ophthalmology
Feb 27, 2015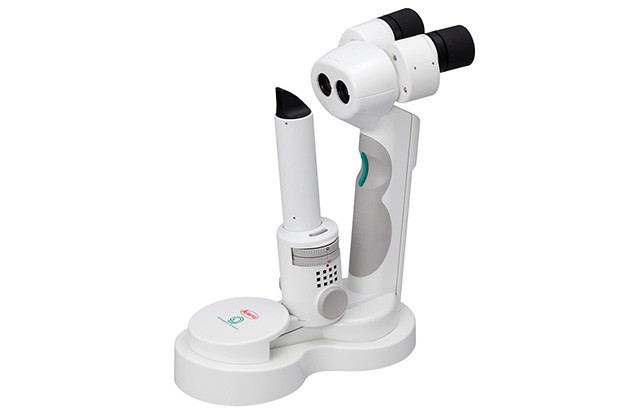 New SL-17 Handheld Portable Slit Lamp and 2WIN Binocular Autorefractometer to Display at Vision Expo East and AAPOS Annual Meeting
Kowa American Corporation is proud to deliver two new products to their line of mobile solutions for ophthalmologists. Both the new SL-17 Portable Handheld Slit Lamp and 2WIN Binocular Autorefractometer will be on display at the International Vision Expo and Conference in New York on March 19-22, 2015 and the American Association for Pediatric Ophthalmology and Strabismus Annual Meeting in New Orleans on March 25-29, 2015.
Kowa's new SL-17 Handheld Portable Slit Lamp represents further enhancements to our gold standard fifth generation product. Kowa replaced the halogen lamp and updated the battery power source and is powered by four (4) AAA rechargeable or dry cell batteries. The SL-17 now uses high luminance white LED light, adding a rheostat to deliver proper illumination. This makes the SL-17 ultra-portable with approximately 140 minutes under continuous illumination.
The 2WIN Binocular Autorefractometer is the newest development in refraction. This hand-held device is fully automated and effectively measures all amblyogenic factors. The 2WIN is ideal for infants and children due to its fast five-second exam time and easy operation.
The SL-17 Handheld Slit Lamp and 2WIN Binocular Autorefractor can both be viewed at the Vision Expo East in Kowa's booth number 6851 and the AAPOS meeting in booth number T13. Kowa's WX-3D Retinal Camera will also be on display with free demonstrations for all products.
About Kowa American Corporation: Kowa American Corporation is a U.S. subsidiary of a global multi-faceted company offering a broad range of products with technologically advanced medical products and software solutions for ophthalmology, optometry, clinics, hospitals, military facilities, universities, and research as well as private doctors. In addition, Kowa American Corporation offers a full product offering of binoculars, spotting scopes, factory automation and machine vision (CCTV), and industrial lenses.
Kowa attributes its record of success to its ability to introduce products with key features, innovation, and functions that meet specific user needs and help to make workflow more productive. Kowa is constantly expanding its focus into new fields where it can make effective use of its core technologies. In detail, Kowa is allocating more resources to niche markets such as eye care, LED lighting, and specialty lenses where greater accuracy and reliability are required. On the frontier of technology, Kowa is living up to the expectations and trust its customers have in Kowa as a global brand.